Features & Troubleshooting
How do I use all those buttons in the game and where can I go if I need help? On this page you can find answers to your questions.
Mahjong Online Features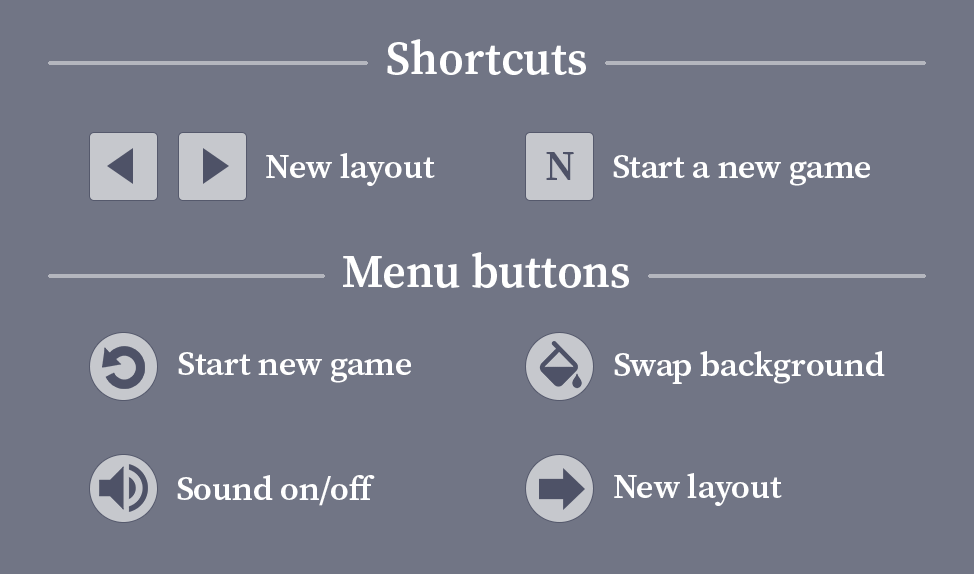 Aside from the ability to select from various layouts, there are few other options included in our version of Mahjong Online. Instead, it has been kept as simple and user-friendly as possible to enable you to focus on solving the puzzles and enjoying the gaming experience. There are no shuffle or hint options in this game—we want you to solve everything yourself! However, to find the most comfortable game viewing experience, you can change the game background color to fit your preference via the paint bucket button. Also, sound can be toggled on or off using the speaker button, and you can choose to start a new game via the refresh icon or the N key on your computer keyboard.
Changing the Layout
The standard layout, as originally designed by Brodie Lockard, is called the Turtle Formation because it resembles the top view of a turtle. We have provided our Mahjong Online game with a number of additional layouts, so you can choose the butterfly, the stadium and many others, each of which have their own difficulty level. You can browse through the layouts using the arrows on your keyboard, or click the right arrow button in the menu. Note! Choosing a new layout means that progress in the old game is lost.
Saving the Game
Stuck in a pinch and can't finish your game? No need to worry. You can save your games when it comes time to go to bed, or if you find yourself in a Mahjong puzzle you can't seem to get through and need a break! Simply close the game and return at your convenience. The game will remember exactly where you left off, and you can continue playing with a rested mind and newfound courage... and maybe this time you'll be able to figure it out!
Problems & Troubleshooting
As you know, this game is human-created—and humans make mistake. Human error happens from time to time, despite our best efforts to develop a high-quality, bug-free game. Occasionally, our software or its interaction with your browser may experience minor glitches. Typically, this is easy to fix by taking a few simple steps:
Step 1. Close the browser, then reopen it and return to MahjongOnline.com. Are you still experiencing problems? If so, move onto the next step...
Step 2. This step includes something called a "force reload" of your browser—or a hard reload. Browsers typically load files from its cache. However, after a force reload, the browser will reload websites from scratch without using those old, occasionally defective, files from the cache memory. To do this, if you are using Windows, press CTRL and F5 at the same time. To complete this step on a MAC, press COMMAND, SHIFT and R. For mobile devices, follow step 3.
Step 3. While we all want things to be simple, sometimes it's just not meant to be! So, if the above steps fail to fix the problem you're experiencing, you should manually clear the cache. This action will remove all temporary files and cookies from the browser, which can do no further harm—and in 95% of cases solves the problem experienced with our game. If you are using Microsoft Windows, press CTRL, ALT and DELETE simultaneously. You will see a window with options that will enable you to clear the cache. If you have a MAC and are using the Safari browser, press COMMAND and the comma (,) at the same time. For mobile devices, press the menu in the top right corner and look for the heading: Clear Cache/Delete History.
Step 4. Still no dice? Don't worry. You have options. Why not try the game in another browser? Our game has been tested extensively on several of the most popular browsers, including: Google Chrome, Microsoft Edge, Opera and Apple Safari. It is not recommended to use Firefox for gaming.
Step 5. If you have reached this point, the problem is likely bigger than we anticipated. With this in mind, we ask that you send us an e-mail via the Contact form. We will help you as much as we possibly can so you can enjoy the gaming experience!